Jane Jester Marmion '68 has contributed greatly as a community servant. She has worked as a medical social worker; a caseworker and program supervisor for Sheltering Arms; a geriatric supervisor for the MMHRA Outpatient Geriatric Services; and for more than two decades, has served in a private geriatric mental health practice.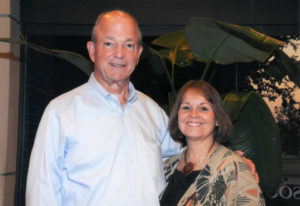 With such public-facing work, Marmion has come a long way from her reserved adolescence. As a high school student unsure of where to attend college, she accompanied her father to senior night in Sharp Gym of the new Houston Baptist College. "My father knew Dr. Hinton (the University's first president). Dr. Hinton invited me to apply, and in typical teenage fashion, just being shy, I said 'yes,'" Marmion remembers. "It was the best decision I made for me in joining the students at HBC."
In 1964, Marmion became a member of the second class of students at HBC, majoring in Sociology and Christianity. She joined the College Singers and felt at home quickly. The founding classes are a unique group whose members share a special bond. They helped establish the traditions that would become foundational for following classes.
"I was able to find a sense of belonging as a shy, not-sure-of-yourself teenager," she said. "I entered HBC prior to my 18th birthday. In that place, I found friendships that have lasted until today."
Marmion has been a longtime volunteer for organizations including the Baylor College of Medicine and the Susan G. Komen® Houston. She and her husband, Steve, count HBU among the local worthy causes to support.
"We believe in its mission and that is good for Houston," she said. "We support the work of the faculty and staff knowing how much they care about HBU and its students."