Angela Stewart '97 came to HBU after graduating from nearby Bellaire High School. As one of four children, Stewart showed an early proclivity toward her chosen career, practicing public speaking and even making mock business plans for fun.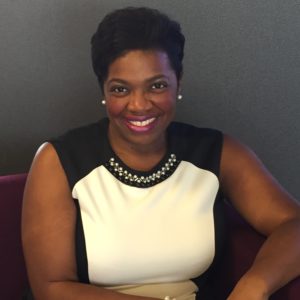 At HBU, Stewart double-majored in Business Marketing and Speech Communications. Stewart remembers attending basketball games, competing in Husky Revue, representing Black Student Fellowship in the Ornogah pageant, attending Midnight Breakfast during finals, and hanging out in the Student Center. As a Business major, she was part of Alpha Kappa Psi as well.
"There were so many highlights during my time at HBU," she said. "Our president, faculty and staff were wonderful. They offered so much academic guidance and support. Convocation was a perfect pause each week, with amazing guest speakers and great spiritual music. Some of my most treasured memories revolved around living in the dorm. The campus was beautiful and the dorms offered so much fun, which provided the opportunity to make lifelong college friends!"
Stewart's degree and three internships launched her into a career that began in hardware and software sales. She worked for IBM, Compaq (now HP) and BMC Software. She then transitioned to human resources and worked for Baker Hughes. Now, she is a business process analyst for Schlumberger.
Of her alma mater, Stewart said, "When I think about HBU today, it represents an institution of solid Christian values, educational excellence and diversity. HBU is one of the best-kept secrets in Houston. I've had the privilege to serve on HBU's Alumni Board of Directors for two three-year terms. I will always bleed orange and blue. Go Huskies!"