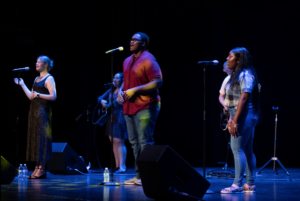 Students in HBU's Focus and Refuge bands have the important job and privilege of leading students and others into adoration and praise of God. The two campus worship bands have become an integral part of Spiritual Life and the campus community at HBU.
Refuge is the official HBU worship band that plays at convocation and other HBU functions. Focus plays for Baptist Student Ministries (BSM) on Thursday nights, and for outreach events such as church Disciple Now. Refuge is comprised of a violinist, guitarist and rhythm guitarist, bass player, keyboard player, drummer, and vocalists. Focus includes lead and rhythm guitarists, a percussionist, a keyboard player, and vocalists.
Nathan Mahand HBU Baptist Student Ministries (BSM) director, oversees the bands, but he emphasizes that the talented groups are student-led. "It adds an element of student identification with what's going on onstage that wouldn't be there if it was faculty or staff-led, or directed by someone from the outside," he said.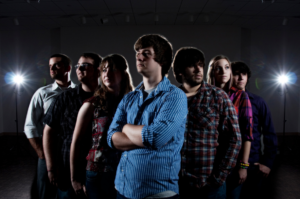 Junior Abigail Rodrigue serves as a current keyboard player and vocalist for Focus. "There is a special connection I think between the student congregation and the bands," she said. "The bands are made up of students that we see every day. They are people like you and me. Through these bands, HBU shows that it does not matter what your background, major, or appearance is, we all have a heart to pursue the Lord."
Focus & Refuge Memories
Former director and current HBU photographer, Mike Tims, led the groups in the early 2000s. He remembers the groups performing at dozens of events per year. "The impression that I've gotten was that these were some of the best times that students had in college," he said. "Hopefully we had an impact on students' lives – they have a special place in my heart as well."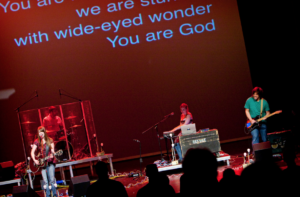 Mon'Sher Spencer '08, director of Student Involvement and Leadership Programs, remembers serving as a vocalist in Refuge as a student. Later, she became the director of Focus and Refuge, helping transition the traditional vocal group led by former director Mike Tims into a band. "He laid a strong foundation. I believe both Focus and Refuge enriched the HBU experience for students by bringing a new element to our worship gatherings on campus as well," she said. "Focus and Refuge were some of the greatest memories I have of HBU. It's a legacy that I pray continues for a long time!"
For many students, their time serving in the bands was a key highlight of their college careers. Former Refuge co-director and drummer, Nicholas Zamora '19, said, "Refuge was my absolute favorite part of HBU. My time in Refuge taught me how to worship off the stage. This group is full of people so on fire for God that it becomes contagious. They have shown me how I can worship in my everyday actions and live a life that is driven by fervent worship."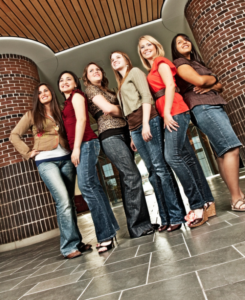 Karen George '19, served as a director and electric guitarist for Refuge. She said, "Through Refuge I was able to receive a deeper understanding of who God is and how when we come together with the same mindset to glorify God through worship, He is able to bring change to our campus and use us for His kingdom."
A bass player for Refuge, John Coggins '20, said the band became like a family. "Participating allowed me the opportunity to develop my skills as a musician and grow in my faith in God," he said.
A past vocalist in the Refuge band, Chelci Harris '20, said, "Being in the band kept me disciplined, helped me work on my timeliness, increased my understanding of music, developed my leadership skills, and made me responsible for my faith and for my own personal relationships — with Christ, family, and friends. Seeing my bandmates' love for Christ further ignited my own fire!"
Jakora Frazier Snow '16 MEd '20, who served as a band student director her junior and senior years, said, "Refuge and Focus are an opportunity for students to have new experiences in worship, learning to grow together and presenting to the world and to the body of Christ a beautiful mosaic of believers who want to make God's love known to all."