The University of Houston College of Medicine has opened and, in July 2020, accepted its first-ever class for the inaugural program. In celebration of its opening, UH President Renu Khator said, "Our dedicated faculty and students will work tirelessly, with boots on the ground in clinics across the city, to advance health care delivery and ultimately improve the well-being of our communities."
The worthy mission is being bolstered by an anonymous $3 million gift that allows the selected 30 students in the class to each receive a $100,000 four-year scholarship to cover tuition and fees. According to the Houston Business Journal, the College whittled the first class down to 30 from a pool of 1,728 applicants. Incredibly, two of those 30 students are HBU alumnae. They began the program in July 2020.
Diamondneshay Ward
Growing up in New Orleans, Diamondneshay Ward '19 wanted to become a doctor, lawyer, singer and actress. When Hurricane Katrina hit, her mother and four brothers were forced to evacuate and relocate to Houston.
"If it weren't for the volunteers helping us, I don't know what would have happened," she said. "Just seeing people coming together was a selfless thing."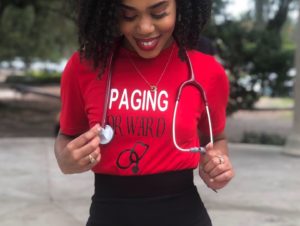 Ward, her mother, and four brothers were eventually placed in an apartment in Houston. Being a recipient of kindness and practical help made Ward sure she wanted to go into the medical field.
At Klein Forest High School, Ward was a high-achieving student, and graduated in the top three percent of her class. Although she had a number of options, she quickly narrowed her choice to HBU.
"I chose HBU because I looked into the school, I visited, and I loved the Christian atmosphere and the chance to grow spiritually," she said. "HBU gave me the President's Scholarship and I feel like I made the best decision I could have made."
Ward majored in Biology on a pre-med track. "In the Biology program, I remember my first day of class like it was yesterday," she said. "I was in Biology I and the professor was really smart – and they all are great – and I had just come out of high school. And I remember at the end of class, I thought I don't know what I'm doing and maybe I should switch majors. I wasn't used to that level, so I really had to look up videos on how to study and look at her office hours. I was able to turn things around and get an 'A' in the course; it's not that the classes got any easier, but I was forced to level up and push myself and start thinking more like a scientist."
At HBU, Ward made meaningful friendships and was involved in Kaleo Discipleship program, in the Alpha Chi Honor Society, on the HBU Recreation Team, served on the Student Programming Board, volunteered with the Red Cross, and was a commuter assistant. She earned the President's Award and the Commuter Assistant of the Year. Her full schedule taught her how to plan and prioritize effectively.
"The Biology program is not easy but it's not supposed to be easy," Ward said. "The professors were great and gave me words of wisdom; they really encouraged me and helped change my life. They helped mold me into the scientist I am today."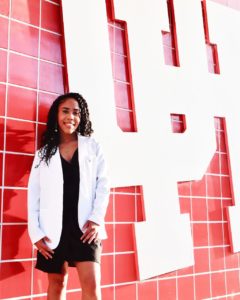 After graduating in 2019, Ward took a position as a nursing assistant. She studied and took the MCAT, then began applying for medical schools. Ward interviewed with several medical schools, but she was especially drawn to UH's mission.
"I have a passion to help communities like the ones I grew up in," Ward said. "I want to serve the underserved and help alleviate the healthcare disparities that exist. I don't want to just be a doctor, but to be a mentor and someone others can talk to."
When Ward conducted a virtual interview for UH in April, she did her best and left the results in God's hands. The next month as she was driving home from work, she received a call.
"I thought, 'Maybe this is someone for my Mom,' and so I answered and it was one of the doctors who had participated in an interview session and she told me I got in," Ward said. "I was elated and I was screaming. I had to apologize because I was screaming in her ear. It was hard to describe. I felt like everything I worked for in my life – all the way starting from Hurricane Katrina, homelessness, growing up in a low socioeconomic environment, waking up at 5 a.m. to go to work, to class, staying up, and all of my failures and successes were worth it."
Ward is planning to go into internal medicine with a specialty in endocrinology. For other students who aspire to get into medical school, Ward recommends they keep a clear and positive mindset and stay on top of their studies. "It's not going to be easy, but it's going to be worth it," she said.
Ward credits God, her mother, and others who have helped guide her along the way. "I learned persistence at a very young age," she said. "You have to be persistent and go for what you want in life. If the opportunity doesn't present itself, you have to find a way."