By Texas Baptists Communications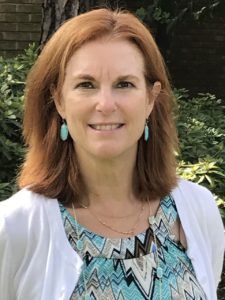 Carla Stutts '01 has been chosen by Texas Baptists as one of nine recipients of the 2020 Baptist Educators Serving Texans (B.E.S.T.) Award. Stutts, a sixth-grade science teacher and graduate of HBU, has served as a Texas educator for almost 20 years, living out her faith daily among her students. Stutts has been teaching in Houston Independent School District (ISD) at Meyerland Middle School since 2001. She also serves as the new hire mentor and department chair at the school. Stutts is the lead teacher for Advanced Science Students at Meyerland, a program that allows students to take the three years of required science courses at an accelerated pace to finish in two years. In addition to the advanced program, Stutts has also designed and implemented a course that allows eighth-grade students to complete a year of a high-school-level science class. Texas Baptists, a statewide convention of more than 5,300 churches, established the B.E.S.T. Award in 2020 to honor teachers such as Stutts who have dedicated their lives to educating students and being a witness for the Lord. Nine individuals were chosen for the award, each representing one of the nine Texas Baptist universities. The selection process was coordinated through the Office of Cooperative Program Ministry.
"Carla Stutts is one of the thousands of public school professionals who complete their training at our nine Texas Baptists-affiliated universities each year. Thanks to the generosity of churches supporting the BGCT Cooperative Program, these educators are serving as the presence of
Christ in the mission fields of our Texas public schools," Chris Liebrum, director of Cooperative Program Ministry, said.
Stutts has been a member of the National Science Teachers Association (NSTA), where she has made presentations. She has also presented at Texas Science Teacher Conventions. Stutts leads her school safety committee, where she arranges safety drills and ensures that the school is prepared in case of an emergency.
"I know Mrs. Stutts is deserving of recognition for her outstanding work as an educator as she has not only influenced her colleagues but her students. Each year, students come back to school just to say 'hello' and let her know that what she taught them in sixth grade was foundational to their success in high school," Claran Johnson, dean of students at Meyerland Middle School, said.
In addition to her service as an educator, Stutts is an active member of Willow Meadows Baptist Church in Houston. She served in children's ministry for eight years and youth ministry for 10. She has also served on the church council. Currently, Stutts serves on the personnel committee and as records manager for her Sunday school class.
"Carla understands the importance of education and is committed to her craft. She strives for, and achieves, excellence in the classroom. She exhibits her faith in the way she respects and cares for her students," Craig Taylor, senior pastor of Willow Meadows Baptist Church, said. "She also shows the character of Christ through building meaningful relationships with those she works, helping to make her school a place where people want to work. Her kindness, smile and warm spirit puts students and coworkers at ease so they can perform better. And her desire for excellence helps her students succeed and grow in confidence."