Trenton Bell '12 first learned about HBU through a college fair held at Belton High School. HBU offered the education he was looking for and the chance to get involved. He sang and played drums, piano, guitar and percussion.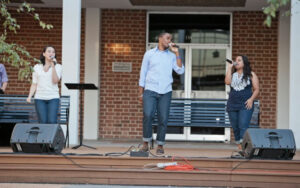 Bell entered the University in the fall of 2008 and majored in Business Administration and Management. He participated in the Gospel Student Fellowship, the Pep Band, was a resident assistant, and a member of the campus band, Focus. He served on the summer orientation team as well.
"I served with such strong singers and leaders," he said. "And the professors and staff made such a strong impression on me while I was there. I miss HBU and I love the diversity. That was one of the things that spoke to me about that school – ethnic, religious, socioeconomic diversity – it was and is a beautiful place."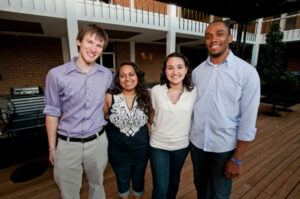 Whit Goodwin, associate provost for Student Life, told Bell about Beeson Divinity School in Alabama, where Bell earned his Master of Divinity degree in 2016. Bell pastored a church in Florida for a year and married Michele, a nurse, before relocating to Dallas. He served in a hospital chaplaincy position before becoming the music pastor at Park Springs Bible Church. The couple has a 10-month-old son, Kaden.
While he has taken a ministry route, Bell notes his business undergraduate background serves him well. "I think the business acumen is helpful in making sound financial decisions – it's definitely helped in all of my training and learning up till now."
Bell describes HBU as his launching pad into life: "HBU is a special place; it's part of my story. It will always hold a sentimental foundational value for me. It's priceless, but it has given me skills to pay that forward and impact the environments I was sent into and live in now."