The Inklings in Oxford – HCU Oxford Trip
June 23-29, 2024
You are warmly invited to apply for the HCU Summer 2024 trip to Oxford.
Your week-long trip will begin in Oxford on June 23rd, 2024. We will stay at the lovely and historic Yarnton Manor, owned and operated by the Lanier Foundation, 4 miles outside of Oxford city center. The trip is open to graduate students, doctoral students, and friends and alums of HCU. HCU Honors undergraduates are also welcome to apply.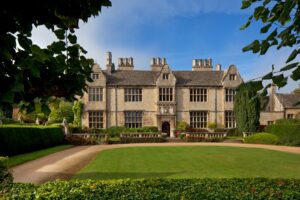 During our time, we will study the lives and legacies of the Inklings, a literary circle based in Oxford, including C. S. Lewis and J. R. R. Tolkien. Lewis and Tolkien's writing is some of the most influential theological and fictional work of the 20th century. We will also learn about those who influenced them, such as Dorothy Sayers, a prominent thinker and public theologian, and of the previous generation, G. K. Chesterton.
You will spend the week in and around Oxford, exploring the sites related to The Inklings, such as their homes, churches, colleges, pubs, and graveyards. Oxford is full of packed museums, beautiful architecture, and historic libraries. Join us for walking tours, choral evensong, and warm laughter and discussion.
We will also venture out to London to visit Westminster Abbey's Poets' Corner, where Lewis is honored. Your trip to London will include London's finest museums and an optional Shakespeare play at The Globe Theater.
The trip cost includes:
Lodging at Yarnton for 6 nights (Sunday-Friday) – Over $1000 value
Breakfasts at the manor each morning
Three dinners at the manor with special talks from scholars
Entry into many of the historic sites around Oxford
A trip to London
Graduate and undergraduate students who wish to take The Inklings Summer class will receive a $500 discount for the trip.
This course is coordinated with the doctoral course scheduled for Fall 2024 (CHRI 7342, Theology and the Imagination). It will cover much of the reading for that course. DMin students are not eligible for the course discount.
The trip cost does not include:
Airfare and transportation to and from Oxford
Meals outside of Yarnton Manor
Trip Cost:
$2000 for each participant.
$1500 for participants who enroll in the Summer Inklings class through HCU. (CHRI 4381/5381: The Inklings in Oxford)
Disclaimers & Caveats:
Accessibility: Participants may be expected to walk up to four miles a day. All locations may not be handicap accessible due to the historic nature of the sites.
Dietary: We may not be able to accommodate all dietary requirements.
Necessities: Yarnton Manor does not supply toiletries such as shampoo and soap, so pack along all necessities. Bring all needed plug adapters and power converters. For participants who require a hair dryer it is recommended you purchase one in the UK, as the electrical current is too powerful for US hairdryers.
Rooming: Couples will be placed in a room with a queen bed. Due to the pricing structure, no discount for sharing a room is available.
Focus: This is an educational and student-focused trip. Alums and friends of HCU are warmly welcome to apply and will be asked to supply some additional information as part of their application. It is expected that they will follow the general trip guidelines. Certain events may be optional for non-students to allow them to tour freely.
Confirmation: Due to an abundance of interest, applicants will be invited in sections, beginning with students and then moving to other applicants. Accepted applicants will be asked to submit a deposit to confirm their spot quickly to allow us to open up invitations to other applicants.
Look forward to visiting the following locations!
The Lanier Foundation's Yarnton Manor
The Kilns, Lewis's home in Oxford
Holy Trinity Headington Quarry, Lewis's church
The Oxford Centre for Fantasy
The Ashmolean Museum in Oxford
The Bodleian Library
Christ Church Choral Evensong
The British Museum
Westminster Abbey & Poets' Corner
The Globe Theatre
Magdalen College and Addison's Walk
Trip Leaders
Phil Tallon. Dr. Tallon is the Dean of the School of Christian Thought and Associate Professor of Theology. He is the author of a number of books, as well as essays on Lewis and Tolkien, including "Evil and the Cosmic Dance: C.S. Lewis and Beauty's Place in Theodicy," "In Defense of The Problem of Pain," and "Pretty, Fair Nonsense: Tolkien's View of the Arts".
Lynn Cohick. Dr. Cohick is the Director of Houston Theological Seminary and Distinguished Professor of New Testament. She is the author of Ephesians in New International Commentary on the New Testament and Christian Women in the Patristic World: Their Influence, Authority, and Legacy in the Second Through Fifth Centuries.
Gary Hartenburg. Dr. Hartenburg is the Director of the Honors College at HCU and Associate Professor of Philosophy. He is the author of Aristotle: Education for Virtue and Leisure. Dr. Hartenburg will accompany the honors students on the trip, together with his wife, Jennifer.
Special Guests
Michael Ward. Dr. Ward is Professor of Apologetics at Houston Christian University. He is considered one of the world's leading C. S. Lewis scholars. He is the author of Planet Narnia and After Humanity, among other books.
Other guests will be listed closer to the trip.
Registration Process
All participants must apply through HCU's Via Portal. This will provide us with all your necessary information to ensure you have an up-to-date passport, contact information, and trip details in country. After application, you will be notified if you have been accepted or put on the waiting list.
A deposit of $500 is due beginning October 15th, 2023 to secure your spot. It is refundable until February 1st 2024, when the final payment of an additional $1500 is due. Late deposit or final payment may result in being placed on the waiting list.
Students who plan to enroll in the Summer Inklings in Oxford class will receive a $500 discount. After May 1st, if students have not enrolled in the Summer class (CHRI/APOL 5381 or CHRI 4381), they will be asked to pay an additional $500.
Honors students will coordinate travel plans with Dr. Gary Hartenburg.
All other participants should arrange for their own flights and transportation to Oxford, which are not included in the trip cost. We recommend booking flights early. Participants are welcome to plan for additional travel before or after the trip, though Yarnton Manor will not be available.
The Inklings in Oxford Summer Class (APOL/CHRI 5381 or CHRI 4381)
This hybrid course will meet remotely through Zoom ahead of the Oxford trip. Students will read widely from the Inklings and their circle, and then complete a series of short writing assignments, together with a final paper. Students not enrolled in the Oxford trip will complete extra assignments to make up for missing contact hours.