Growing up in north Little Rock, Arkansas, Dr. Doris C. Warren's imagination was captured as an onlooker of the world's space race. "It was at a time when the Sputnik era was starting," she said. "NASA was just getting started and a lot of emphasis was placed on science and related careers."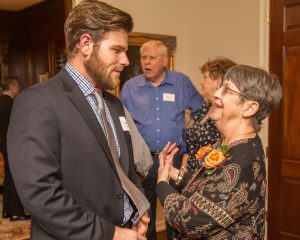 At the same time, Warren showed an early proclivity toward academia. "I'd always loved to read. My mother said I was a born teacher. I would play school with my sister, Betty, who was four years younger," she said.
While she enjoyed a range of subjects, it was chemistry class that truly catapulted Warren into her life's work. Warren liked the ability to incorporate math and explore chemical possibilities. "I had a wonderful high school chemistry teacher," Warren remembers. "We built rockets and went out on the farmland and shot them off. It was a lot of hands-on activities."
After graduating high school in 1959, Warren entered Baylor University with about 50 other freshmen chemistry majors. By her sophomore year, she was a lab assistant, helping the professor set up freshmen labs and conduct research. She earned her bachelor's degree in 1963 and her master's in 1967 from Baylor, both in chemistry.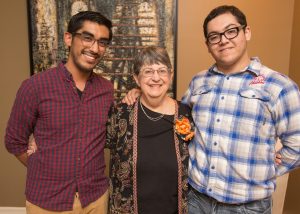 Warren joined the faculty of Houston Baptist University in the fall of 1967. The first HBU class had graduated that spring, and the first president, Dr. William H. Hinton, along with other inaugural faculty members, were just getting started. "The Southwest Freeway dead-ended at Fondren," she said. "The campus was sparse; the big trees were sticks back then and it looked like a prairie."
While a new higher learning institution meant much groundwork had to be laid, it also was an opportunity for free-thinking. "That was the beauty of being at a brand new school," Warren said. "There was no one saying, 'We've been doing things this way.' You were really part of it. I was here when they were doing the first accrediting work for SACSCOC (Commission on Colleges of the Southern Association of Colleges and Schools). I was put on the committee to write the faculty handbook. I learned from the ground up how a university worked. Here at its young stages, we could be very creative. HBU had these businessmen founders like Dr. Stewart Morris. They were very entrepreneurial and it allowed us to be."
Warren credits the University leadership and founding faculty members like Dr. Joyce Fan for their role at HBU and in her own life. "I feel like I grew up academically and professionally as HBU grew," she said. In 1975, Warren completed her doctorate in chemistry through the University of Houston.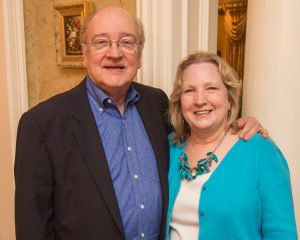 Throughout the years, Warren championed for her students, for chemistry resources, and for HBU as a whole. Early on, she helped secure a National Science Foundation Grant toward scientific instrumentation. In 1985, she pursued a Robert A. Welch Foundation Grant that alone has provided more than $750,000 for the Chemistry Department. In all, she managed to secure more than one million dollars for her program. The grants are only some of the evidence of the fruitful relationships she formed with individuals, organizations and fellow schools.
Even as she saw the big picture of her department, she still prioritized her students. In fact, she was named the Texas Minnie Stevens Piper Professor in 1991. She has made sure that undergraduate students have the opportunity to do research, and to receive a unique level of attentiveness. "We don't have graduate students teaching labs like in large schools. Students really learn how a scientific paper is composed. The mentoring and advising we have makes the difference."
Furthermore, Warren carried on her own love of research, publishing papers and presenting with students at venues like NASA, the University of Houston, UT Health Science Center and Baylor College of Medicine. "Research is an excellent way to teach students critical thinking and problem-solving," she said. "I'd put our students up against any that are out there." She has seen her students graduate and go into careers like medicine, education, engineering, energy and more.
Since becoming dean of the College of Science and Mathematics in 1997, Warren has built upon the reputation of HBU's outstanding programs. "I felt God had given me experiences with grants and budgets and prepared me for the role," she said.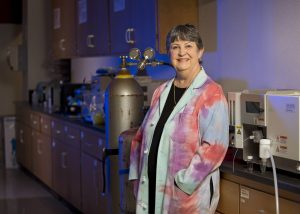 When the University recently celebrated Warren's 50th year at HBU with a reception, her favorite part was seeing some of the many former students who have become friends, and knowing that a scholarship established in her honor will help future students. "At West Point they have the long gray line," she said. "We're the blue and orange line. The students are our future and that's important."
Warren looks forward to continuing her work. She reflected thoughtfully that, as a child collecting money for the Lottie Moon Offering, she thought she might be a missionary and teacher in China. "As Houston changed and grew, the University changed and grew. Students from around the world have come here. I didn't have to go across the sea," Warren said. "I can look back and say I think God established HBU. I was placed here."
MEMORIES OF FORMER STUDENTS
"She wasn't much older than us when she came. She was involved in getting me an assistantship in chemistry in the graduate school at Baylor."
-Jerry Burkhalter, '71
"I worked as a lab manager for her, and she hosted a wedding shower for my wife, Debbie, and me. She was instrumental in making sure I was a chemist."
-Monroe Copeland, '71
"Even now, Dr. Warren is very supportive. It's been exciting to read about her getting grants and seeing her accomplishments."
-Dr. Kay Lee, '75
"Dr. Doris Warren is a professor, mentor and lifelong friend. She is a brilliant scientist, effective teacher and godly counselor."
-Dr. Barbara Taylor-Cox, '81
"She always seemed interested in her students. She's had an impact on so many people and is well-loved. Her classes definitely helped me to do what I do now as a project manager at Baylor College of Medicine."
-Diane Nino, '86 
"I was terrified of her, and one day she walked by when I was playing music in class. She said, 'Is that Julio Iglesias?' That completely changed the way I saw her. She was tough, but it gave me the discipline to go to graduate school."
-Elizabeth Bohorquez, '87 
"My favorite part of her class was how passionate she was about teaching ethics. She also paid for my friend and me to go to an etiquette course on campus. I'm completely grateful for her."
-Kevin Ramirez, '13 
ENDOWED SCHOLARSHIP 
The HBU Alumni Board of Directors has created an endowed scholarship in Dr. Doris C. Warren's honor. Visit HC.edu/Warren to contribute.