By Jeff Sutton
If you've followed HBU men's basketball at all over the last 27 seasons since the program restarted, you're no doubt familiar with head coach Ron Cottrell who has presided over each and every one of those seasons. Odds are, you're also familiar with assistant coach Steven Key who has been a part of the Husky basketball program since 1991 with Cottrell. After starting out as a student manager, his 24 seasons as an assistant coach make him the longest-tenured assistant coach in all of NCAA Division I men's basketball (Cottrell owns the sixth-longest tenure among active head coaches).
College basketball is a profession where it's become the norm for coaches to move from school to school in an attempt to better position themselves for that next job. During the offseason after 2016-17, Key assumed the mantle of the longest-tenured assistant when Mike Hopkins left Syracuse for the head coaching job at the University of Washington. The right circumstances and a true love for his alma mater have created the opportunity for him to office in Sharp Gym for more than two and a half decades.
For Key, who first came to 7502 Fondren Road after his father moved the family to Beaumont following 20 years as a minister in Savannah, Georgia, HBU is simply a part of his life. He states, simply, "This is home. There have been opportunities to look other places and see if there's anything that fits, but every time I did that, nothing ever felt right. Nothing ever felt like being here."
"Here" is the place where Key met his wife, the former Sherry Blakely who was a standout Husky softball player. "Here" is the place where he worked as a manager from 1991 through 1994 before getting hired as an assistant even before graduating in 1996.
Down a hallway past the HBU men's basketball offices sits the program's equipment room. Anyone who has been down that hallway has certainly noticed it, adorned with a variety of stickers and decals placed there over the years by Key and fellow managers who he worked with when he first started at HBU. If you stop and take a closer look at the bright orange door, you'll notice a pair of signatures on the door, one more faded than the other. The older, faded signature belongs to former Houston Rocket and NBA Hall of Famer Hakeem Olajuwon, and the other, newer signature is from Rudy Tomjanovich, a former Rocket player and coach.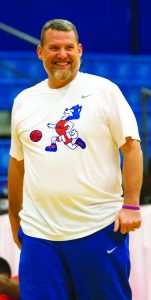 "I've told Coach (Cottrell) several times, if and when we move into a new facility, that door is going," Key says. "It will be the door to the new equipment room. That door, for me, is part of the history of Sharp Gym and HBU basketball. That door could be a historical landmark here on campus."
While the door represents a physical mark Key has left on the HBU campus, some words of wisdom received from his father helped him understand the impact he could truly have as a basketball coach.
He says, "My dad's a minister, my mom's a social worker, my brother's a minister, and early in my career, I always felt like, 'Well, I'm just a basketball coach.' I told my dad that one time, in my mid-20s when I just started coaching and he said to me, 'You don't have to have 1,500 people in your congregation to be a minister, or to minister to people and make a difference. You get 15 guys each year, and that's your ministry. That's who you're trying to reach.' It took a while for that to really seep in and get to where I needed to be. I've been trying to really have an influence on these guys just as much off the floor as on."
In addition to his basketball coaching duties, Key has been an important figure in the athletic department in his 27 years on campus. Early on, in 1993, he began doing sports information work for the Huskies. This included, but was certainly not limited to, statistical work, writing game previews and recaps, and working at games for all sports that HBU sponsored at the time. In fact, Key was responsible for creating HBU's first-ever athletics website back in 1997.
Over the years, he has seen Cottrell as a guiding force in the growth of his career.
"I feel privileged and honored that coach has kept me around this long. I'm sure early on in my career there were probably some times he wanted to get rid of me because I was dumb and naïve to what it takes to become a good coach. But, he kept me around and tried to help me work and help me learn," he recalls. "I think I've been able to forge a good relationship with him even though there's 11, 12 years between us. We're friends, and I consider him one of my better friends, even though he's still my boss."
Ultimately, for Key, he views HBU as the place he's meant to be. He says with a smile, "This is where God wants me to be. I'm about to turn 47 years old, and if for whatever reason God figures out I need to be somewhere else, He'll tell me. But, as long as my keys keep working on that office door, I'm going to keep showing up and working hard to be the person He needs me to be here."