HBU's McNair Center for Entrepreneurship and Free Enterprise, in partnership with the McNair Centers at Rice University and the University of St. Thomas, hosted "3 Day Startup: Water Texas." The three-day program is a learning-by-doing workshop that teaches entrepreneurial skills to participants in a hands-on environment. College students were tasked with creating ideas and formulating solutions revolving around water and water technologies.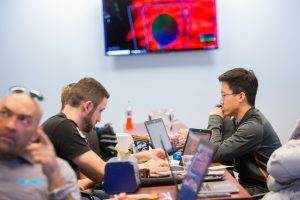 Representing 11 colleges and universities, 22 attendees converged in the new Lighthouse Lab on the second floor of HBU's Hinton Center. Throughout the weekend, four teams worked on ideas which culminated with a pitch contest before a panel five professional judges representing HBU, Rice University, the University of St. Thomas, and the Houston Technology Center.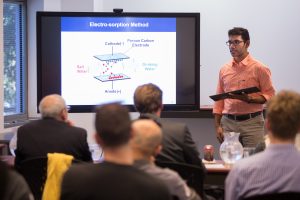 One participant was Texas A&M recent doctoral graduate Daniel Browne, who came to the event with a business plan well on its way. His idea, "Algae to Energy," revolves around using algae to convert carbon waste from power plants and contaminated wastewater into a usable byproduct. "I've been working on this for about two years and had the core idea, but this weekend has been great. We've really developed the business model a lot," he said of his work group. "It's been a great experience; I've really enjoyed this."
HBU junior and business major Chris Mohindroo's group worked on a water filtration system. "In a weekend like this, you learn what you can't get out of class," he said.
Michael Player, administrative director for HBU's McNair Center, said, "I am so very proud of the 10 HBU students, and all of the students, who participated."
Bart Bohn, 3 Day Startup founder, said, "It's been surprising to see the depth of ideas the students brought."
Notably, Browne and his project went on to win second place at the 2018 Aggie Pitch Contest a week later.
Learn more at HC.edu/McNair.