André Walker III still remembers when a friend of his family pointed out his build as an elementary student and encouraged the family to put André in football. His mother, Antoinette, didn't like the idea at first. "My mom wasn't a fan of football because of the collisions," Walker said. "But she took a chance on it."
The New Orleans native had only played baseball up until that point, but beginning in sixth grade, he donned full football gear with a jersey on top for the first time. André's father didn't need convincing. "He loved it," Walker said. "He would go in the backyard and set up an obstacle course for my twin brother and I to run through. He would hold a bag and have us tackle it."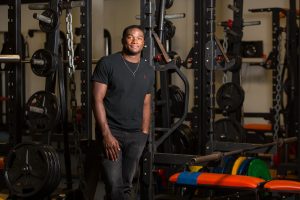 By the time he was a student at Brother Martin High School, Walker was a solid player, serving as a defensive linebacker, defensive nose and defensive end. "I like the physical nature of football," he said. "You get to show a different part of yourself that you can't outside of football." He also likes the team dynamic of working together to accomplish goals.
It was after his junior year of high school that Walker realized he was not only going to play football in college, but he would have options. Several schools courted him, impressed by his combination of power and agility, but it was the HBU coaching staff that made an impression on him. "Being part of the football program at its beginning stages and creating a legacy for others was exciting to me," he said.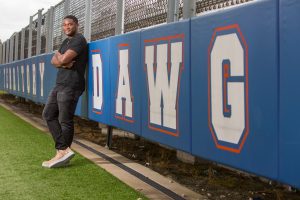 In his first season, Walker earned All-Southland Conference Honorable Mention and was named to the Southland Conference Commissioner's Academic Honor Roll. The success was just a continuation of the work ethic that Walker brought to the program. "In high school, I was going against players that outweighed me by 75 pounds, so I was used to giving it my all," he said.
Academically, Walker had prepared himself in high school as well, determined to get an academic scholarship if he had been unable to secure an athletic scholarship. His pre-med major at HBU requires an extra measure of discipline. During the season, Walker's days begin with 6 a.m. workouts. Then, after classes, team meetings, and afternoon practice, late nights of studying and completing homework are common.
"For me, the way I like to study combined with the amount of practicing we do means I have to sacrifice a lot of sleep," he said. "You really have to manage your time throughout the day. I feel like it's important for my brother, Antonio, and younger sister, Anastasia, to see me keeping my grades up as well as doing something that I love. I think even if you face hardships, you have to keep pushing through it and learning to make it work."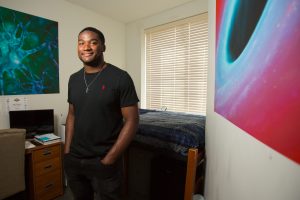 Despite the rigorous practice schedule, Walker credits Head Coach Vic Shealy and the rest of the coaching staff with providing players the opportunity to be refreshed with devotional wisdom, and to attend events like internship fairs. "He really looks after us and makes sure we have our lives in order," Walker said. "It's not only about football."
The holistic view translates to HBU's education as well, he said. "The academic excellence at HBU coupled with the religious aspect is unique," Walker said. "A lot of schools don't do that." When he's not maintaining his 3.92 GPA or playing football, the junior attends Fellowship of Christian Athletes, is a member of the pre-med society, Alpha Epsilon Delta, and is part of a research team. He's also an e-trader by hobby, swapping stocks in his free time.
This summer, Walker is shadowing the team physician, Dr. Vishal M. Shah, before going to Columbia University for the Summer Health Professions Education Program. The experiences are helping him along his planned path of becoming a neurosurgeon.
Exceptional in many ways, Walker is still just one of the guys. He speaks of his teammates with affection. "I have met my best friends in life," he said. "Those are guys I'll never forget. We bleed and sweat together. I know 30 years from now we'll definitely be doing things together; we're a family."
As for his own family, it's safe to say that Walker's mother has come around to the idea of her son playing football. "She loves it," he said. "She's screaming and hollering, and you can hear her over everybody in the stands."