Women were an integral part of the early narrative of Scripture, as well as Jesus' life and ministry. Throughout the history of the Church, women have read and studied the Scripture, and have shared its truth with others through numerous ways – as scribes, translators, missionaries, queens, mothers and teachers.
t an afterthought when it comes to Scripture and to biblical scholarship. Not only are they central in its stories, but they have played roles in recording, preserving and advancing what we now know as the Holy Bible. Even from the earliest days of Christianity, women were valuable contributors in a time when Greek and Roman culture did not emphasize the influence of common women. For example, Phoebe, mentioned in the book of Romans, carried Paul's writings to Rome. Today, about 85 percent of Wycliffe Bible translators are women.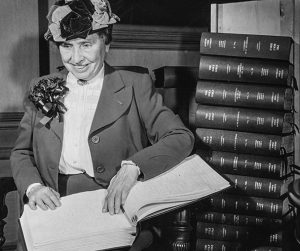 HBU's Dunham Bible Museum is portraying some of the meaningful stories of women's involvement in the Bible through its exhibit, "Women and the Bible." The exhibit features the stories and work of women worldwide ranging from English royal Lady Jane Grey to country singer Dale Evans.
Dr. Diana Severance, director of the Dunham Bible Museum, said the exhibit was inspired by Peter Lillback, president of Westminster Theological Seminary, and Herman Selderhuis, professor of Church History at the Theological University Apeldoorn in the Netherlands, and director of Refo500, the international platform which highlights the legacy of the Reformation. "Concerned that some groups have claimed that Christianity denigrated women, they suggested an exhibit showing how important the role of women in the Bible and women sharing the message of the Bible have been," Severance said. "Wherever Christianity has gone, women have been elevated, and their worth truly recognized."
Remarkably, most of the pieces on display belong to the museum's private collection. The exhibit is on display through 2018.
"Women and the Bible"
On Exhibit through Dec. 14, 2018
10 a.m. to 4 p.m., Monday through Saturday
Dunham Bible Museum
Morris Cultural Arts Center
7502 Fondren Road
Entrance is Free
281.649.3287
HC.edu/BibleMuseum