(Part 4 of 5)
Just a few steps from campus, the Bradshaw Fitness Center is an 80,000-square-feet complex filled with the expected fitness fare and some extras. HBU students can utilize the fitness center at no extra charge. Joshua Dunn, director of Campus Recreation, said, on average, the Bradshaw receives 9,000 visits per month, with nearly 35 percent of those made by HBU students. "If students need a break or want something fun to do, I tell them to get over here," Dunn said.
Upon coming under the Bradshaw's soaring ceilings and light-filled lobby, students can make the most of strength apparatus, free weights, cardiovascular equipment, classes like CrossFit and Pilates, a basketball court, indoor track, rock wall, 25-yard indoor lap pool, therapy pool, whirlpool, steam room and sauna.
Besides the fitness center's individual and group exercise outlets, the University offers Intramural Sports (IMS), also at no cost. Hundreds of students participate in volleyball, flag football, basketball, soccer, Ultimate Frisbee, powder puff football and dodgeball throughout the school year. "Students love being part of IMS and getting to play in the Husky Football Stadium," Cassie Sorrell, HBU Campus Recreation coordinator, said. "We've heard a lot of students say that intramurals have allowed them to feel connected to the University and to build lifelong friendships."
More than just a fun diversion, participation in intramurals, like other student organizations, allows for players to take on guiding roles. Students are given autonomy; about 25 students work in Campus Recreation, supervising and officiating. "There's a unique opportunity in terms of leadership," Dunn noted. "For example, if students are officiating, they might have to gently reprimand their peers. That's a skill."
The goal of intramurals, along with fun, is for students to interact in a sportsmanlike and Christlike manner, Sorrell said. Plus, the students are getting the exercise they need. "Intramurals get the players working out and being physically active while they're not even thinking about the exercise," she said.
For students who play a more competitive game, Club Sports amp up the fun; HBU offers them for a small fee. Students are matched against area college and university peers for men's and women's soccer, men's and women's basketball, women's volleyball and men's Ultimate Frisbee.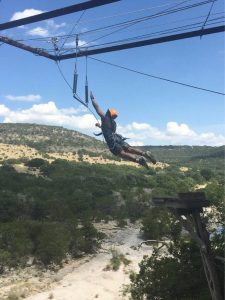 Also, Campus Recreation offers Epic Adventures, which fits its moniker. Students trek into exploits like horseback riding, paintball, golfing, bubble soccer, dragon boat races and a spinoff of American Ninja Warrior. Back on campus, Showdown at High Noon began last school year, beckoning competitors into a series of fun and sometimes silly minute-to-win-it games such as dizzy bat races and football tosses.
One of Campus Recreation's most compelling offerings for incoming freshmen is The Odyssey, an outdoor adventure at Camp Eagle in which they can create bonds with one another, get to know University faculty and staff, HBU upperclassmen, and build their relationships with Jesus Christ. "This unique experience is an opportunity for the freshmen to jumpstart their journeys at HBU, get the tools they need to be successful in college, and participate in exhilarating and challenging activities while supporting their peers and developing their leadership abilities," Sorrell said. "The skills and relationships students build on The Odyssey is one reason why some students said they chose to remain at HBU."
Dunn summed up the exercise, relational and enrichment options: "Campus Recreation provides opportunities for the students to really thrive." Sorrell added, "College is all about academics, but like Student Involvement, we believe it's about having a full collegiate experience too. At Campus Recreation, we strive to offer a place for students to go during their leisure time and provide a fun and faith-filled environment, all while becoming and staying physically fit."
Visit HBUFit.org and HC.edu/CampusRecreation for fitness, Intramural Sports and Club Sports Information.