Submitted by the Morris Family Center for Law & Liberty
If there is one thing about Former British Prime Minister Winston Churchill that stands out, it was his conviction during the Second World War that liberty and Western Civilization are worth defending. It's a good message for young people to hear. The mission of the Morris Family Center for Law & Liberty at HBU is to make sure that HBU students understand and appreciate our nation's founding principles. We inherited these principles from the Greeks, the Romans, the English, and our Judeo-Christian heritage. For the Center's annual "Leadership in Liberty Lecture" this school year, award-winning British author Andrew Roberts (visiting professor at King's College, London) spoke to HBU students about Winston Churchill, the Second World War, and the fight against Nazi aggression in Europe. Many students were only vaguely familiar with the story.
Professor Roberts' new biography, entitled "Churchill: Walking with Destiny," has been pronounced by the London Times, New York Times, and Wall Street Journal as the best biography of Churchill to date. Roberts had access to previously unavailable documents, including the diary of King George VI. Roberts spoke to the HBU Honors College during a special Tea Time event about the character and leadership of Winston Churchill. Students enjoyed tea, scones, and great conversation with Professor Roberts. Each student received a signed copy of Roberts' book. The event was quite meaningful to the students. Attending the tea, Government major Calvin Maynard observed that "Churchill stuck with his convictions that liberty was incompatible with Nazi ideology, and all-out resistance was the only proper course of action." Senior Nursing student Abbey Hannah Brant noted that "Churchill highlights the difference between a leader driven by conviction rather than popularity." Roberts later addressed the larger HBU community, painting a character sketch of Churchill with those qualities that made him a great leader but also a difficult person. "Churchill was hard on people, but those who came to know him, loved and admired him very deeply," said Roberts.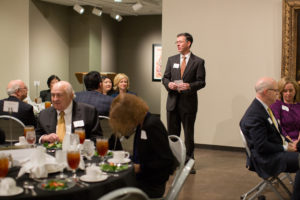 A private dinner with Roberts was held later in the evening for HBU faculty and invited guests. Dr. Chris Hammons, director of the Morris Family Center for Law & Liberty, observed, "This was a great opportunity for our students to learn that the fight for liberty isn't something confined to the American Founding or ancient history. There are people alive today who fought during the Second World War, including Dr. Stewart Morris – one of HBU's founding fathers – who was seated at the dinner next to Professor Roberts." Dr. Morris says that most young people take freedom and opportunity for granted, not realizing the cost and sacrifice that comes with defending it. "It sounds like a bumper sticker, but freedom isn't free," Morris said. "After this great lecture by Professor Roberts, I hope our students understand that better."
Visit HBUlaw.org.