By Gary L. Selman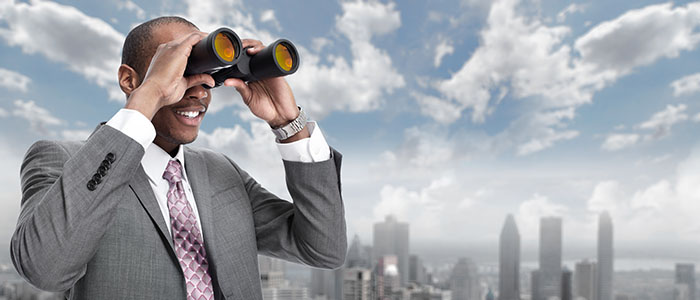 Job search and career transition are often a time of intense trial, emotional upheaval, and financial strain, and can be especially challenging during the holidays. Being unemployed will test your self- confidence, faith in God, and the very fabric of your marriage and family relationships. For Christians, it can be compared to the time the Israelites spent in the wilderness. It is a time of radical change and discomfort as you face an uncertain future and deal with the unknown. Like the Israelites, you may long for the certainty of Egypt (your old job) even though you were very unhappy there. In the wilderness of job search and unemployment, you face new challenges, obstacles, and tests every day. Will you trust God and walk in faith? Will you refuse to believe Satan's lies and resist the urge to murmur and complain? Remember, God does not like murmuring and complaining. Be careful that you do not turn an eleven day journey into a forty year trek! It is imperative that Christians stand on God's Word and His promises during this time of trial. Before you start your job search, ask yourself these questions:
1.      Do I understand that God invented work and the world of business?
2.      Do I understand that the primary principles and issues concerning work and business are addressed in God's Word?
3.      Do I believe that God has a place in my daily work life?
4.      Have I allowed the world to convince me that faith and work don't mix?
5.      Am I willing to honor and obey man in the marketplace, but unwilling to honor and obey God and His Word?
6.      Do I think that God's has a place in the marketplace or just the sanctuary?
7.      Do I struggle to integrate my faith at work?
8.      Am I afraid to come out of the closet and talk about my faith at work?
9.      Do I think that God does not understand the challenges associated with unemployment and job search?
10.    Do I pray at work and ask the Lord for His help?
The Relationship between God and Work
What does God's Word tell us about the relationship between God and work? When we examine the Word for answers, we find:
1.      God created the first start-up and had the first needs for a workforce (Genesis 1:1-31).
2.      God established the first workforce – Adam and Eve (Genesis 1:27, 2:7-8).
3.      God created work, and His plan and will for man is to work (Genesis 1:28, 2:15).
4.      God made covenant agreements, promises and vows with man; God committed to provide protection, favor, and reward faithfulness.
(Genesis 6:18-22, 9:12-13, 17:1-10, 35:9-11; 31:41-44).
5.      God was the FIRST:
a.      Visionary/Inventor/Creator/Business Owner/Employer (Genesis Chapters 1-2)
b.      Interviewer/Hiring Manager and Boss (Genesis 2:15-17).
c.      Mentor and Coach (Genesis 2:18; 3:22-24).
d.      Quality Assurance/Quality Control Inspector (Genesis Chapter 1)
e.      Hiring Manager; Created incentive programs to drive performance (Genesis 3:9-24).
f.       Manager to perform Performance Reviews/Disciplinary Actions (Genesis 3:9-24).
6.       God created the FIRST:
a.      Job with duties and responsibilities (Genesis 1:28, 2:15-17, 19-22).
b.      Selection / Hiring Process (Genesis 2:7, 15).
c.      Job Offer / Compensation Package (Genesis 2:16-17).
d.      Performance Review Process (Genesis 3:9-12).
e.      Termination / Disciplinary Action Plan (Genesis 3:17-24).
Jesus Understands Work and the Marketplace
What about Jesus and work? What does the Bible have to say? In his book, "The 9 to 5 Window," Os Hillman makes some critical observations about Jesus:
1.      Jesus, like His Heavenly Father, lived a life of purpose and worked to fulfill God's plan and vision, "But Jesus answered them,
My Father has worked [even] until now, [He has never ceased working; He is still working] and I, too, must be at [divine] work" (John 5:17).
2.      Jesus worked even on the cross; His last words, "It is finished" (John 19:30) related to His work.
3.      Jesus spent over 50% of His life as carpenter before He started His ministry.
4.      Jesus lived and worked in the marketplace and spent little time in the temple.
5.      Jesus made 132 public appearances; 122 of them were in the marketplace.
6.      Jesus told 52 parables in the Gospels; 45 had a workplace context; 40 divine interventions were recorded in Acts; 39 occurred in the marketplace.
7.      Jesus called 12 workers from everyday life, NOT clergymen, to build His church.
Who Do You Listen to During Your Journey in the Wilderness of Unemployment?
What are you telling yourself during this time of trial in the wilderness? Are you walking in faith or fear? It is imperative that you remember:
1.      "For God did not give us a spirit of timidity (of cowardice, of craven and cringing and fawning fear), but [He has given us a spirit] of power and of love
and of calm and well-balanced mind and discipline and self-control" (2 Timothy 1:7).
2.      "Fear not [there is nothing to fear], for I am with you; do not look around you in terror and be dismayed, for I am your God. I will strengthen and harden
you to difficulties, yes, I will help you; yes, I will hold you up and retain you with my [victorious] right hand of rightness and justice" (Isaiah 41:10).
3.      God's love, mercy and grace for mankind are so great that He gave His only Son, Jesus Christ to die for our sins (John 3:16).
4.      God defeated Satan in heaven; Jesus defeated Satan on earth on the cross (Luke 10:17-18; Col 2:14-15).
5.      The blood of Jesus was shed on the cross for our sins giving us reconciliation with God, deliverance and redemption from our sins,
and healing from sickness (2Co 5:18; 1Pe 1:18-19, 2:24).
6.      We can overcome all temptations and trials and nothing is impossible for us through Christ who strengthens us (Mat 17:20, 19:26; Luke 1:37).
7.      Jesus came and died on the cross to give us peace (prosperity, happiness, health, wholeness and completeness) in every area of our lives;
on the other hand, Satan's mission is to steal, kill and destroy. (John 10:10)
8.      We are heirs to every promise in God's Word; He always honors us when we honor Him; He will never leave us or forsake us. (1Sa 2:30).
9.      Through our faith in God and His Son, Jesus Christ we have dominion, power and authority over all the earth and over all the power of Satan, our enemy. (Luke 10:19; Rom 8:36-37).
10.    Faithful obedience guarantees God's protection, provision and favor. (Psa 91:1-2; Php 4:19).
Key Steps to Job Search God's Way
1.      Renew your mind; set your mind on God's words, thoughts, and plans for your life (Rom 12:1-2; 8:5-6).
2.      Be "covenant-minded." Know and believe in the promises God made to Abraham and understand that they apply to all believers.
Turn to God and ask Him for help. Seek Him with all your heart, mind, and soul (Heb 8:10).
3.      Be Spirit-led in all your decisions; Listen to the Holy Spirit. Ask God for help as you seek Him with all your heart, mind, and soul.
Ask God to show you His plans and His will for your life. (Rom 8:14-15; Mark 12:30; John 14:26).
4.      Pray without ceasing; continually give God thanksgiving and praise—no matter what! (1Th 5:17-18).
5.      Refuse to walk in fear; trust God to provide for you and your family in His perfect timing (Psa 37:4; Php 4:19; Ecc 3:1).
6.      Walk in faith, confidence, and expectant Hope in God; know that He is your only Source (Heb 10:38).
7.      Prepare for the emotional roller-coaster and the battlefield of the mind (Eph 6:11; Isa 26:3).
8.      Show integrity in all you do and say; seek only godly counsel. (Psa 26:11; 1:1-3).
9.      Ask the Holy Spirit to teach you what to say during interviews and meetings (Luke 12:12).
Summary
Job search for unbelievers and Christians alike can be very difficult and can take weeks even months. It often brings high levels of fear, worry, and anxiety and puts a strain on finances and relationships. I have witnessed Spirit-led job searches and can attest that it is available for every Christian who chooses to press into God and believe and receive His promises. In the wilderness of unemployment will you draw near and press into God and stand on His Word or will you allow your emotions to cause you to walk in doubt and unbelief. Will you run from God or to Him? Yes, life in the wilderness of unemployment can be challenging, but trust God to lead you and guide you. Your ideal job, God's best for you is waiting. Will you trust Him to lead you to it?
Self Reflection and Application
1.      Are you walking in fear, doubt, and unbelief or faith and trust in God's Word and His promises?
2.      Are you practicing stillness and coming before God each day in prayer?
3.      Have you asked God to show you His will and plans for your life?
4.      Are you allowing your emotions to lead you?
5.      Are you starting your day with God and His Word? If not, why not?
Gary L. Selman is an accomplished author, executive coach and motivational speaker.  He has spent over thirty five years pursuing his calling, encouraging, mentoring and equipping others to live as citizens of the Kingdom of God and to become compassionate, faithful and disciplined servant leaders.  Gary and his wife Karen are founders of the First Call Advisory Group, which ministers to business owners, corporate executives and entrepreneurs. Gary holds a Master's Degree in Clinical & Community Psychology from Stephen F. Austin University.  He can be reached at gary@yourfirstcall.net