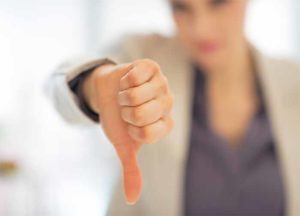 By Dr. Jim Harris
I see it all the time in business. It is now so commonplace that most business people are simply immune to it.
That is until a professing Christian business leader does it.
Then it IMMEDIATELY destroys their credibility!
So what is it?
Profanity!
Cussing!
Cursing!
When others hear a "Christian" use profane language – even seemingly "harmless" words – the impact is immediate and profound upon both believers and non-believers.
Here is what the Bible says and how to get control of your cursing.
What the Bible Says About Cursing
"Let no unwholesome talk come out of your mouths, but only what is helpful for building others up according to their needs, that it may benefit those who listen." Ephesians 4:29
"But you must rid yourselves of all such things as these: anger, rage, malice, slander, and filthy language from your lips." Colossians 3:8
"Out of the same mouth come praise and cursing. My brothers, this should not be. Can both fresh water and salt water flow from the same spring?" James 3:10-11
"Put away perversity form you mouths; keep corrupt talk far from your lips." Proverbs 4:24
"The heart of the righteous weighs its answers, but the mouth of the wicked gushes evil." Proverbs 15:28
"In your anger, do not sin." Ephesians 4:26
3 Keys to Stop Cursing
Memorize the Word
"I have hidden the word in my heart that I might not sin against you." Psalm 119:11 
Begin by memorizing all the verses listed in this post. If not all, pick one or two and repeat them several times each day. Bury them in your heart, your mind, your soul. Let the word of God grow in you richly to build a stronger leadership character.
Bite Your Tongue
"Everyone should be quick to listen, slow to speak, slow to anger." James 1:19
I teach leaders a silly yet effective way to control you tongue – bite it! Yes, literally bite the tip of your tongue when you are about to curse, when angry, when you need to listen rather than speak. I know it sounds really weird, but it works. Even when you are THINKING it, you can STOP from SAYING it if you remember to bite your tongue.
Stay Committed
"Perseverance must finish its work so that you may be mature and complete, not lacking anything." James 1:4
Controlling your cursing is a long-term, never ending commitment. It took me a full two years to get to a place where I had significant control over this sin.
Just Do It
Am I perfect? Of course not, and neither are you. Yet over the past twenty years, I have rarely uttered a profane word. But this is only from years of purposing in my heart to STOP CUSSING through memorizing God's word, biting my tongue, and staying committed.
And one more thing – drop the ridiculous "Well, I didn't mean it" and "I know I am forgiven" and "I can't help it" cop outs! These are signs of weakness and lack of character.
I pray this post exhorts you.
---
Dr. Jim Harris is an international speaker, advisor, and coach to executives, entrepreneurs, and pastoral teams. An author of 14 award-winning books, his latest is Our Unfair Advantage: How to Unleash the Power of the Holy Spirit in Your Business. Learn more about his services and sign up for his weekly blog at www.DrJimHarris.com.