The Sharon K. Burrows Lecture Series
and
The Ashley Jadine Foundation
present a panel discussion about
The Impact of COVID-19 on Suicidal Ideation and Behavior

Saturday, September 26, 2020 | 10 a.m. to 11:30 a.m.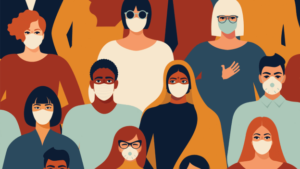 via Microsoft Teams Meeting – Houston Christian University
7502 Fondren Road, Houston, TX 77074
---
Panelists
Dr. Lucindra Campbell- University of St. Thomas
Dr. Elsa Soto-Leggett- Houston Christian University
Ms. Ashley White, LPC- Houston Independent School District
Ms. Peggy Turpin
Moderator
Dr. Patrice Yarbough, President of the Ashley Jadine Foundation
Webinar Details
Workshop attendees are encouraged to sign on by 9:50 a.m. for the workshop to begin promptly at 10 a.m.  The event is free and on Microsoft Teams. Please contact Dr. Renata Nero at rnero@hbu.edu or Emely Ramirez at eramirez@hbu.edu if you need the link.
The webinar will open with prayer and information about the Sharon K. Burrows Lecture Series and the Ashley Jadine Foundation. Following the introduction of the moderator and panelists, the panel discussion will begin. Following the panel discussion, the panelists will address questions from attendees. The webinar will end at 11:30 a.m.
Learning Objectives
As a result of attending this conference, attendees will be able to:
Articulate the factors contributing to hopelessness during the Covid-19 pandemic.
How have the pandemics (Covid-19, social injustice and economic recession) contributed to the risk of suicidal behavior.
Discuss how different communities/professionals (e.g. faith, friends, family, neighbors, medical/pharmaceutical, etc.) can work together to recognize and address the warning signs of suicidal behavior.
Describe at least three strategies for fostering resilience in adolescents during a pandemic.
What are some treatment modalities that have been found to be effective in addressing concerns people have during a pandemic?
---
Psychology Programs at HCU
If you are interested in continuing your studies so that you can address mental health issues such as suicide prevention, please consider one of the following graduate programs in the College of Education and Behavioral Sciences:
Graduates of the aforementioned programs may pursue Texas state licensure as a professional counselor (LPC).