University Organist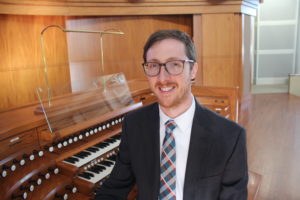 From a young age, music was a large part of John's life—music was always playing at home and in the car, a year of obligatory piano lessons, singing in musicals and choir in high school, playing double bass in jazz band, playing in a band throughout high school and college, and vibrant congregational singing in the Lutheran church in which he grew up.
John attended Capital University, studying both religion and double bass. He started taking organ lessons and soon found himself spending more and more time at the organ console and less time behind the bass, and so he added yet another musical interest.
After college, John moved to Houston through Teach for America and eventually began studying organ, voice, and church music with Robert Brewer and assisting in the music program at the Episcopal Church of the Epiphany as a Choir/Organ Scholar. In church music, John found the energy and conviction of rock music combined with the craftsmanship and interest of classical music, all within a context that focused on something bigger than music itself.
Following his work at Epiphany, John was Music Director of Holy Trinity Episcopal Church in Dickinson, Texas and Organ Intern at St. Philip Presbyterian in Houston, Texas. He earned a master's degree in Organ Performance from the University of Houston's Moores School of Music, where he studied with Robert Bates, Matthew Dirst, and Sigurd Øgaard. Presently, he is Director of Music & Organist of St. Andrew's Episcopal Church in Houston, where he oversees a graded choral program comprised of 4 choirs.
In August 2021, John was appointed University Organist of Houston Christian University. He is husband to Sally and father of Fiona & Joni.